Hello
Sharing something different in this post, a book review.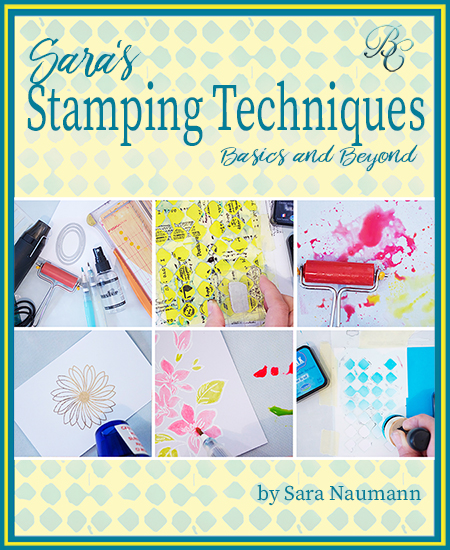 I was fortunate enough to receive a new e-book, Sara's Stamping Techniques Basic and Beyond, by Sara Naumann.
This e-book covers the breadth and depth of stamping, which for anyone who might be picking up a stamp for the first time, they will be gently guided by Sara's expert hand, in a clear and concise manner in both text and photos. Learn the supplies to invest in, thereby avoiding costly mistakes and essentially, how to maximise the use of your supplies.
Make no mistake, this e-book is not solely for beginners.  For seasoned stampers, view this as a manual for techniques learned in the early days of your creative journey which have become hazy over time. View your supplies with fresh eyes.  With techniques learned, begin to put into action in a host of cardmaking projects.
Throughout, Sara's creative wisdom along with her warm, easy style, will bring a sense of confidence to any new stamper and will revitalise a seasoned stamper.
To purchase this book, then please visit HERE. where you can purchase the book in digital or print version.
Wishes
Lynne